To remain competitive in today's automotive supply market, you need to be smart and lean- and your paint system needs to be the same. Here at Nutro we have developed completely hands free Brake Rotor Systems. Nutro uses its mechanical expertise alongside its electrical engineering ability, combining robotics for material handling and spray painting with an electronic vision system. The result is a lean design which minimizes the labor required to paint parts which must be produced as coast efficiently as possible.
Nutro's finishing systems have processed parts found on: Ford, GM, Dodge, Toyota, BMW, and many more.
Washers
Custom washer to fit your needs. Dual lanes, heated stages, back flow control, heated-blow offs, and multiple stages. Filtration typically required for the first stage depending on level of debris.
Nutro also offers as an option a Rust Preventative Misting chamber that mists a rust preventative chemical onto the product prior to packaging.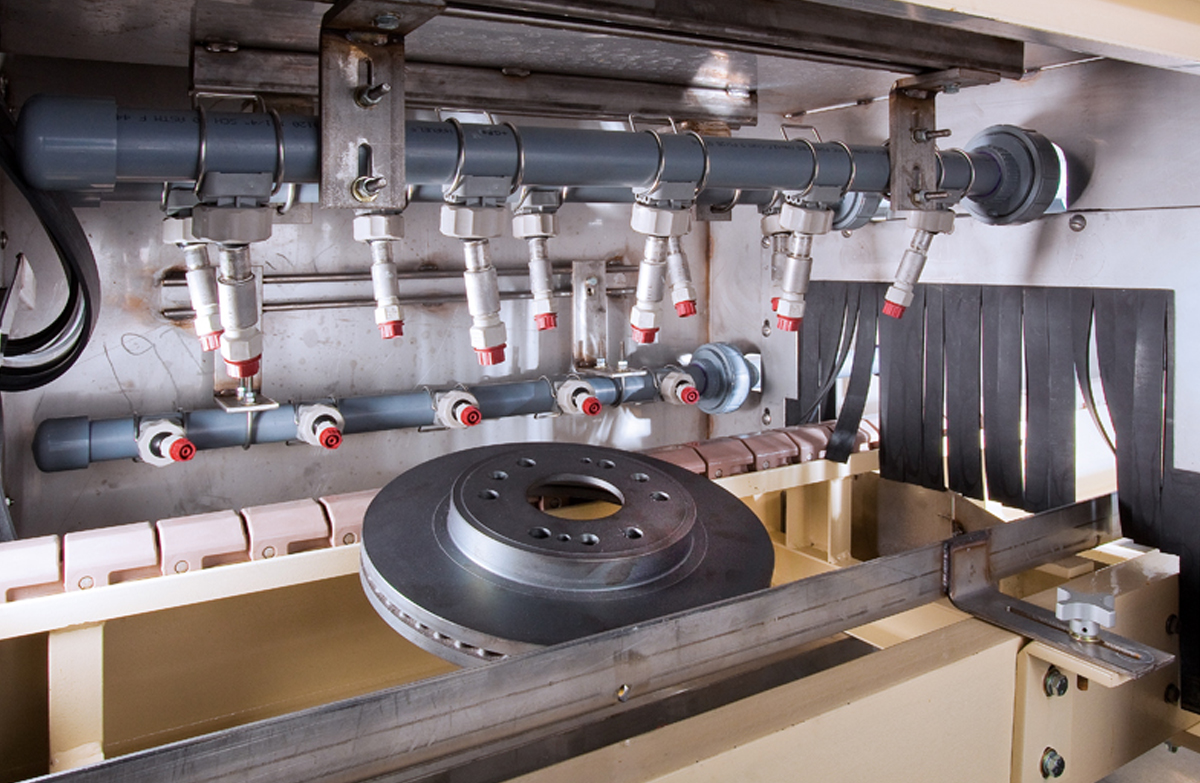 Robotic load
Nutro has extensive experience manufacturing and integrating material handling systems that can be integrated into the paint system. Robotic load and unload can drastically minimize cycle rates and man power. Custom robotic tooling is built in house and can be used for many purposes including fork, vacuum, magnetic, slip sheet, and many more. Nutro also offers Gantry transfers that offer repeatability at a lower cost.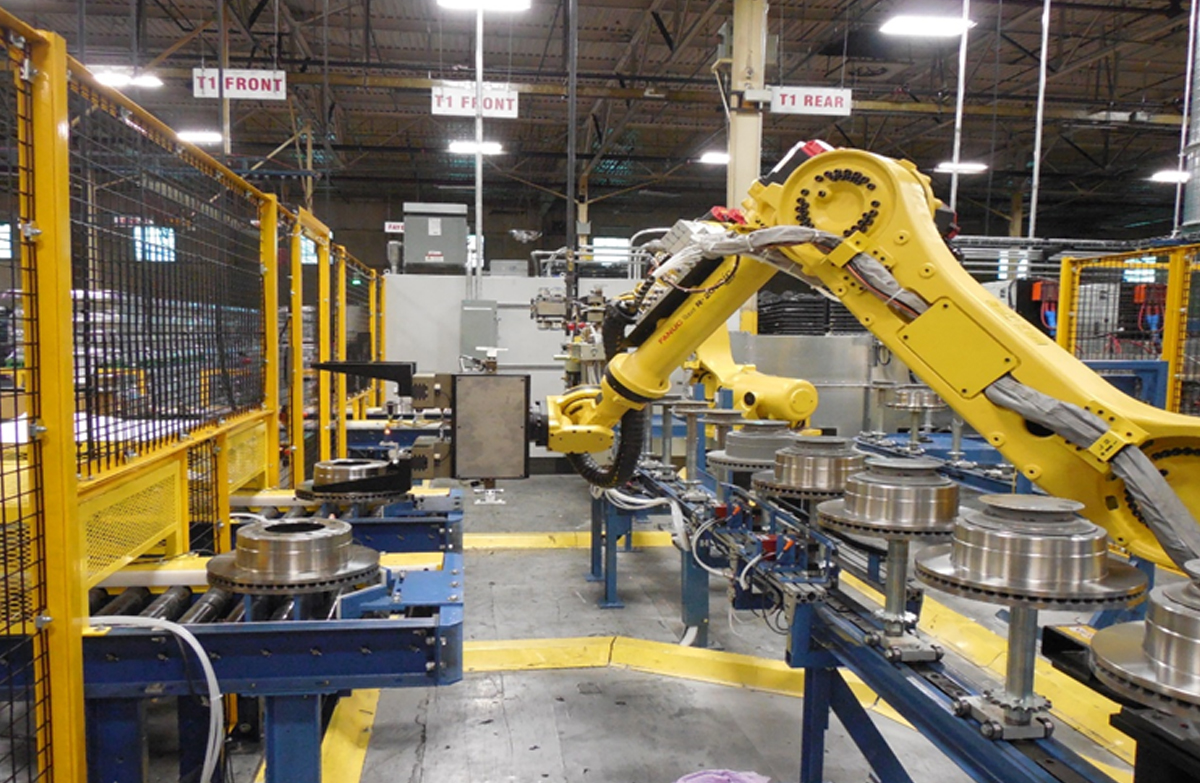 Preheat | Cure
Nutro offers and has extensive experience in IR, Induction, Electric and gas fired convection ovens. Depending on customer request and budget Nutro can implement the proper technology that performs and meets the coating manufacturer's requirements.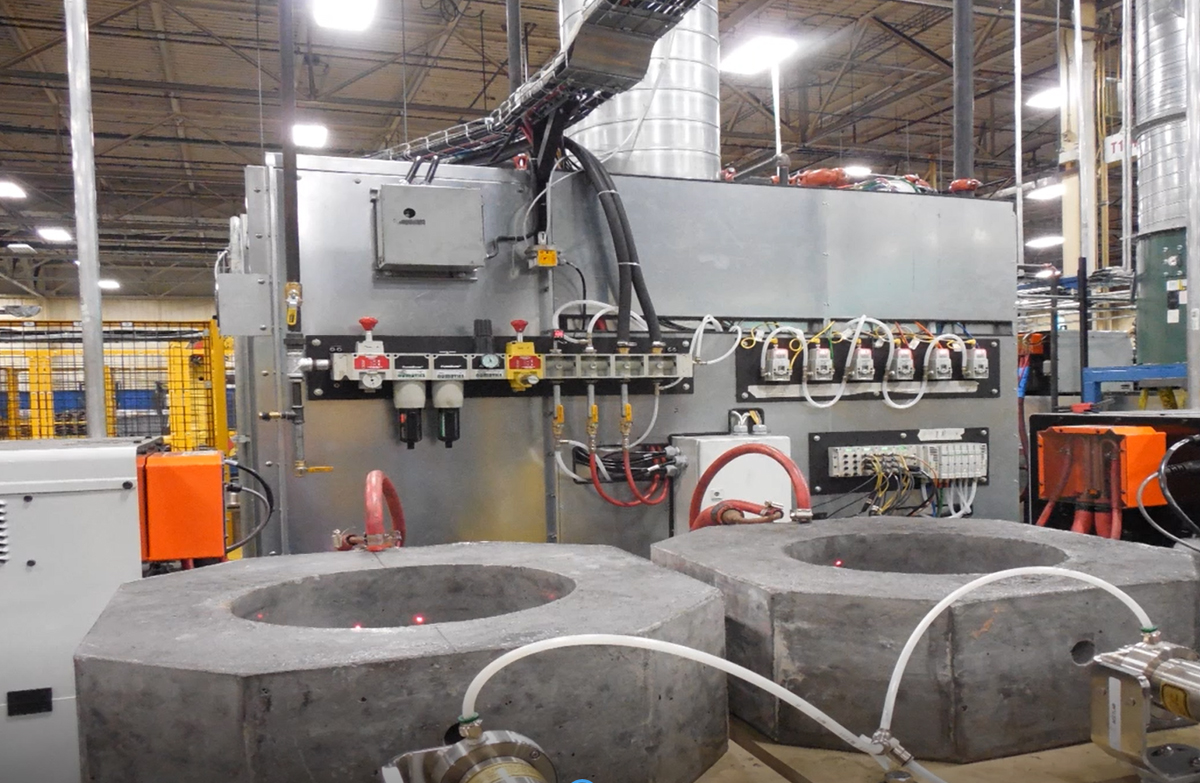 Spray Booth | Application and Spray
Nutro offers NFPA 33 Designed Spray Booths with customizable sizes if necessary. Our standard spray booth includes Teflon coated baffles that can easily be cleaned to prolong the disposable filtration, polyester filtration, two stage high capacity Supra Filter mesh and a Tri Cube 3 ply filter bag. This filtration arrangement maximizes filtration life while reducing the risk of coating escaping to the outside environment.
All coatings are not created equal but a typical system results in the correct pump, filtration, recirculation, and agitation for consistent spray results with minimal purge/clean times. Nutro offers both fixed and robotic spray depending on the customers' needs.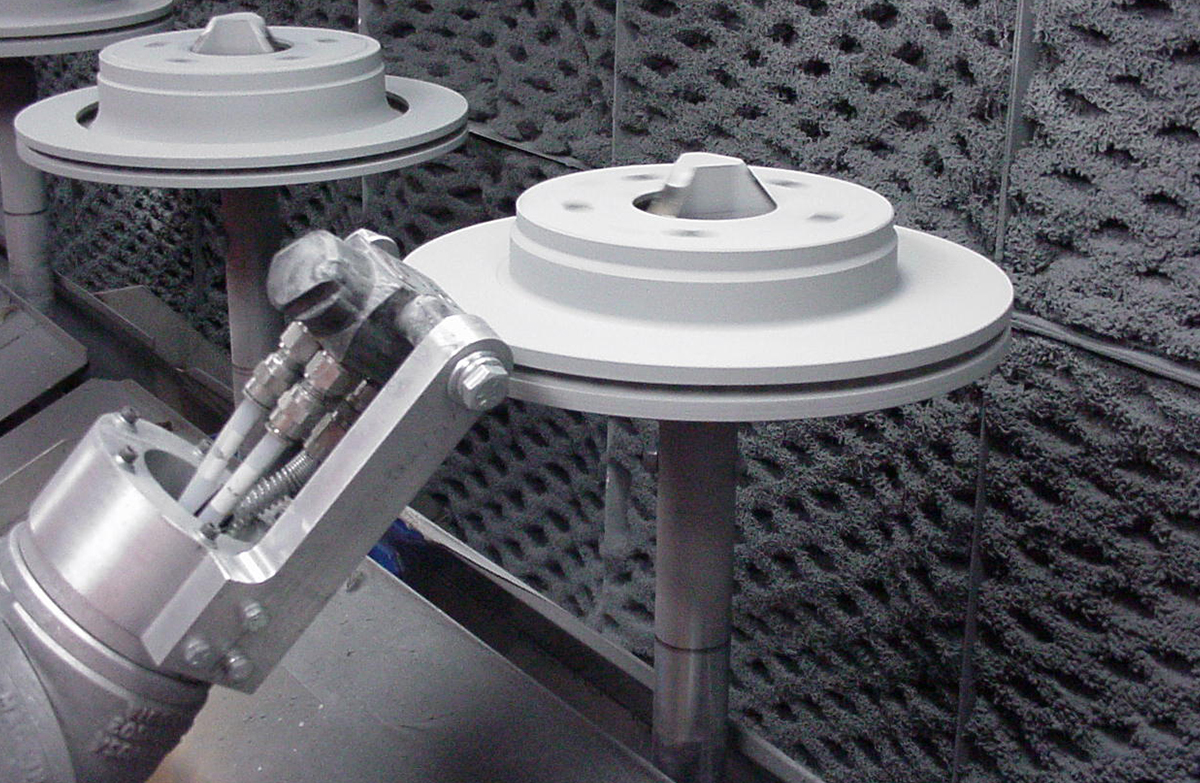 Conveyance | COE | Over Under
Nutro has been manufacturing Chain On Edge conveyance for 35+ years and offer a wide variety of proven designs. Chain On Edge offer low cost, minimal maintenance, flexible to meet any space requirement, and longevity which is ideal for the rotor coating market. If a straight-line process is preferred, Nutro has developed the Over/Under design that offers precise locating as well as many of the same benefits of the Chain On Edge.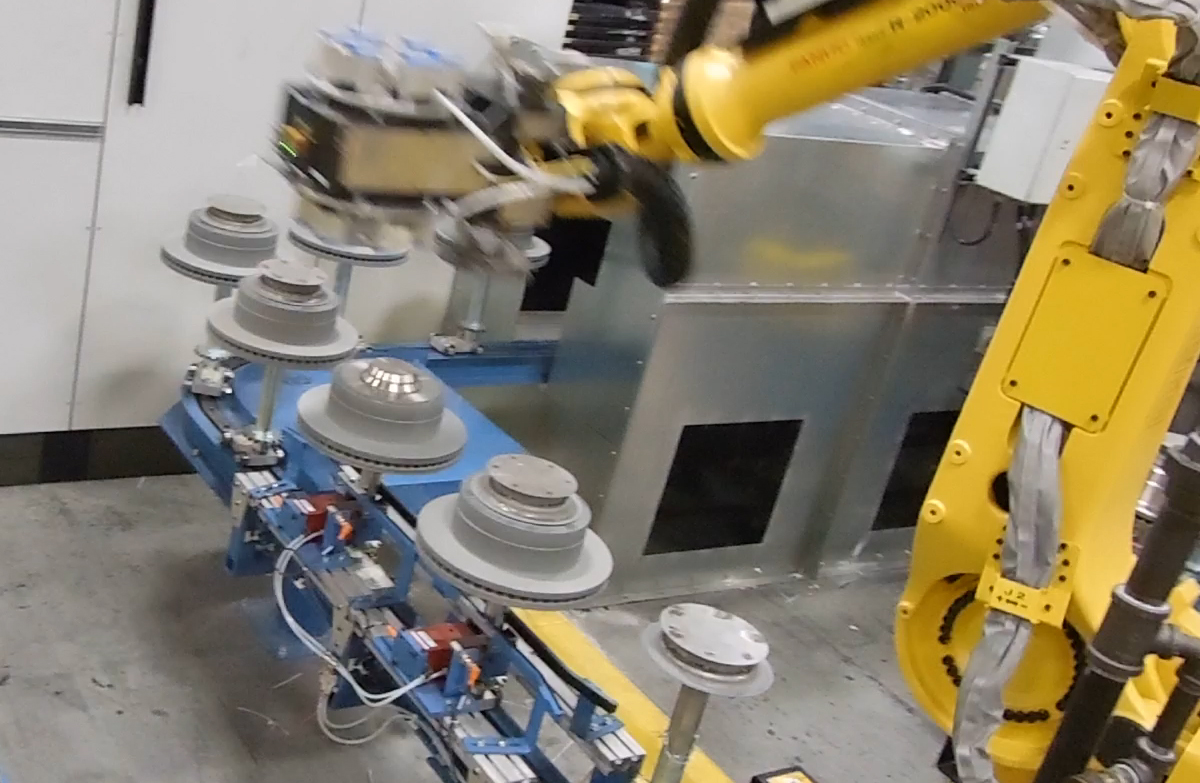 Cooling
Our push pull designs utilize outside air to cool the product while single recirculation design utilize plant air for cooling. Depending on the complexity of the part Nutro can design a bottom up airflow, top-bottom airflow, or a side to side airflow.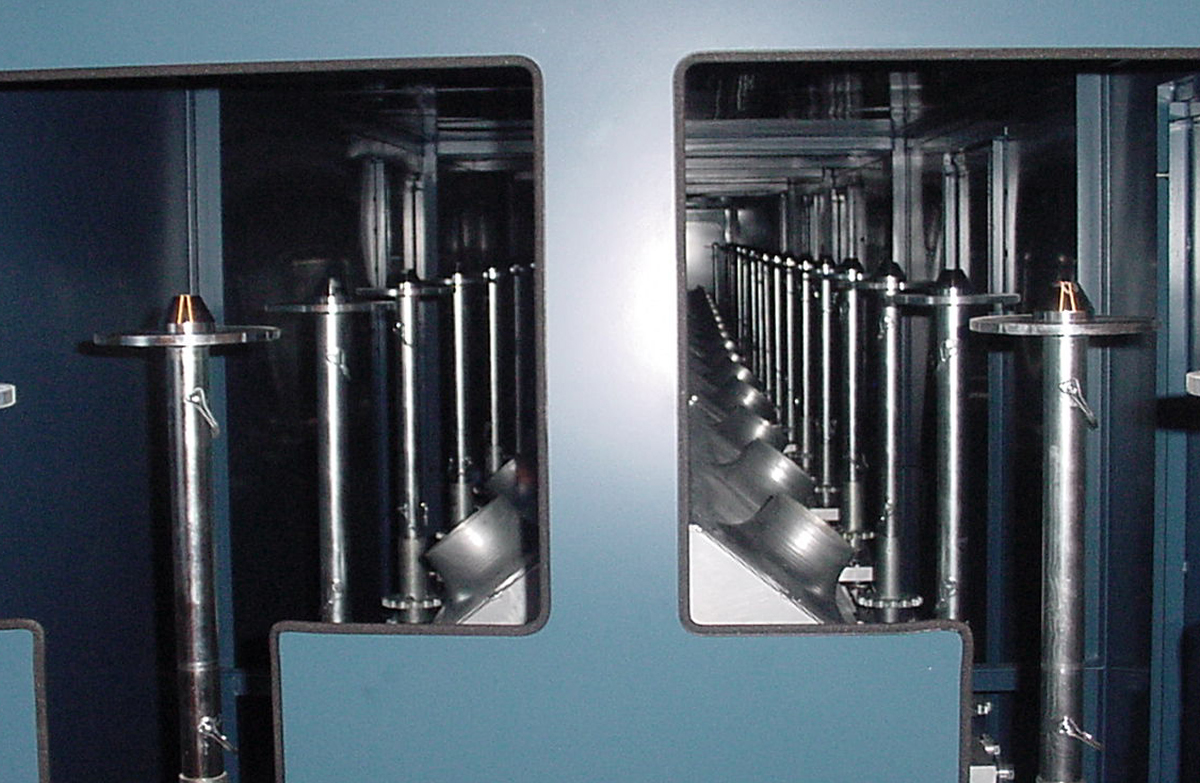 Controls
Using Allen-Bradley or Siemens distributed I/O networks with the most current automation products reduces the number of possible failure points. Using the latest components also ensures long term product support and availability.
Optional data collection packages will track important data for each piece processed on the coating system and around the plant. This data can be used for warranty verification, machine troubleshooting, production statistics, etc.